Learning Ladder Early Childhood Tuition Based Programs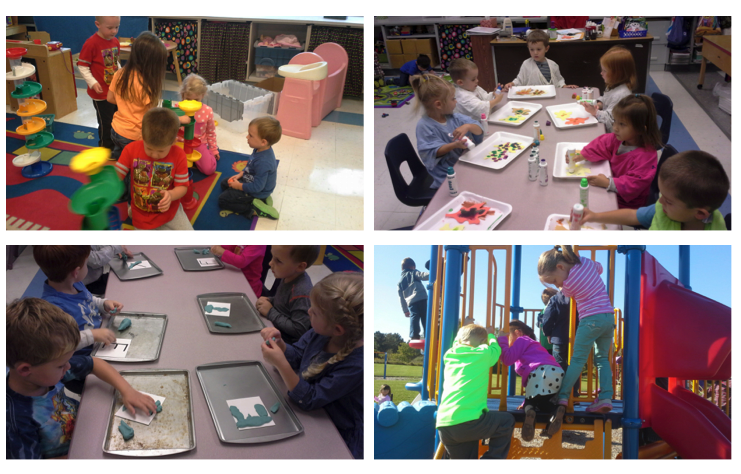 Holly Learning Ladder offers early childhood tuition based programs including an Infant/Toddler and Preschool Program.
All lead teachers maintain their Child Development Associates Degree (CDA) and all staff members are CPR trained and certified, first aid trained and certified, and have cleared state and federal fingerprint background checks.
All programs require a $50 non-refundable registration fee.
All Learning Ladder Tuition Registration Info
Open Registration for the 2023-2024 school year has begun. Please call the Learning Ladder office for enrollment information at 248.328.3021.
Pre-registration and Registration paperwork are listed on the left of this page.
You will also need to complete the New Student Online Enrollment process for enrollment in any of the Learning Ladder programs. Visit our Enrollment Information page for information and link to enroll.
Infant/Toddler Nursery Program
The Infant and Toddler Nursery Program provides services for children ages 6 weeks to 3 years.
We provide a loving and nurturing environment for children to play and learn. Infants and toddlers share in circle time for socialization and fun activities such as story time, music and movement. They are also offered experiences in arts and crafts, daily walks and gym time.
The hours of operation are 6:00 am – 6:00 pm. Monday through Friday during the school year.
Licensing ratio (adult to child) for the nursery is 1-4. Sibling discounts are available.
Location: Holly Elementary
Phone: 248.328.3021

Learning Ladder Infant/Toddler Program Tuition
Preschool
Preschool is offered Monday-Thursday for three and four year old students. Half days and full days are available with a minimum of 2 days scheduled weekly. Our classroom(s) use the research based HighScope Curriculum that aligns with Michigan's Early Childhood Standards of Quality for Pre-Kindergarten. Curriculum areas include Approaches to Learning; Social and Emotional Development; Physical Development and Health; Language, Literacy, and Communication; Mathematics; Creative Arts; Science and Technology; Social Studies; and English Language Learners. In the HighScope curriculum, adults and children are partners in play.
Times and Locations:
Davisburg Elementary
Full Day - 9 am to 3:30 pm
Holly Elementary
Full Day - 9 am to 3:30 pm
Patterson Elementary
Half Day - 9 am to 12 pm

Rose Pioneer Elementary
Full Day - 9 am to 3:30 pm

Learning Ladder Preschool Program Tuition
Latchkey

Latchkey Services 2023-2024

Latchkey Parent Handbook 2023-2024
Students have an opportunity to complete homework, play with others (games, activities, crafts) and go outside or to the gym.
Non Refundable Registration fee: $50
School Service Hours:
Davisburg

Elementary
AM Session - 6:00 am to 8:30 am
PM Session - 3:46 pm to 6:00 pm
Holly Elementary
AM Session - 6:00 am to 8:20 am
PM Session - 3:30 pm to 6:00 pm
Patterson Elementary
AM Session - 6:00 am to 8:40 am
PM Session - 3:56 pm to 6:00 pm
Rose Pioneer Elementary
AM Session - 6:00 am to 8:35 am
PM Session - 3:45 pm to 6:00 pm
*No P.M. Latchkey on district ½ Days
*No Latchkey on district wide PD Days
*Learning Ladder will follow all district wide PD Days
Daily Drink/Snack offered at 7:00 am and 4:30 - 5:00 pm

Latchkey Registration Form
The Summer Learning Ladder offers a variety of fun activities for children 6 weeks old - 12 years of age. Children are given the opportunity to participate in arts and crafts, sports, games, hiking, community and nature exploration.
The Summer Learning Ladder will host field trips each Wednesday throughout the season, utilizing Holly Area Schools buses for transportation. Field trips are optional and individually priced.
Visit our Summer Learning Ladder site for more information.

Latchkey Registration
Learning Ladder Pre-Registation Form
Please click the following link to complete the Pre-Registration form:
Learning Ladder - Pre-Registration Form
Once the form is completed, Learning Ladder staff will be in contact with you to discuss next steps for enrollment. Please be aware that completion of this form does not guarantee enrollment in the program(s).
Amber Carmichael
GSRP / Head Start / Learning Ladder
Secretary