HHS Class of 2023
Welcome to the Class of 2023 general information page. Below you will find information on scheduled end-of-year Senior activities. If you have any questions, please call the high school's main office at 248.328.3200
Senior Timeline of Events
Holly High School 2023 Senior Timeline
1st Trimester:
College Visits (Listed on Building Website)
Complete your EDP on Xello - we will begin these during College Week (see below)
Oct. 1st - FAFSA Application Opens
Oct. 13th - Common Application Workshop (During Advisory, Seniors received an email to sign up)
Oct. 13th - AP Exam Registration (4th Period)
Oct. 20th - Jostens presentation (During Advisory)
Oct. 21st - Senior Photos Due (Yearbook Headshots)
Oct. 24-28th - College Week
Senior Meeting to cover the following topics
Parchment
NCAA Eligibility
Letter of Recommendation Request form
College Checklist / Financial Aid Information
Oct. 26th @5-6:30 pm - College and FAFSA Night
5 – 6 PM: Many local colleges will be set up in the building with information and handouts about their program.
6 – 6:30 PM: Stephanie Knox from the University of Michigan Flint will be presenting information on how to properly fill out your FAFSA.
6:30 – 7:30 PM: We will have Chromebooks for parents to sit down and begin filling out their FAFSA. There will be counseling staff on site to assist as needed.
Here is a message from Ms. Knox: If you are hosting a hands-on session after the presentation –
1. One parent and the student should complete the online application for an FSA ID at: https://studentaid.ed.gov/sa/fafsa/filling-out/fsaid
2. Families should bring the following documents:
– Parent(s) – FSA ID, 2021 W2, 2021 Federal Income Tax return, Both parent's social security numbers
– Student – FSA ID, 2021 W2, 2021 Federal Income Tax Return (if filed)
Oct. 27th - Jostens onsite during lunches to collect Cap and Gown Orders
Oct. 28th - AP Exam Fees Due
2nd Trimester:
December - All Cap & Gown orders are due! (Prior to Winter Recess)
February - Local Scholarship Presentation for Senior Class
3rd Trimester:
March 24 - Local scholarships are due
April 19 - Professional Trades open house
May 1st - Decision Day
May 1st - 12th - AP exams
May 5th - Prom (on Friday - Venue 111, Holly, MI)
May 17th - Seniors last day
May TBD - Senior local scholarship assembly/Senior awards
May 31st - Graduation rehearsal (mandatory)
June 2nd - Graduation, O'Rena @ Oakland University
After Graduation:
July 31st - Final Transcript Requests through Parchment Due

**For anyone interested in taking an additional SAT test. Please visit www.collegeboard.com, we will count SAT scores taken through April 1, 2023 for Senior Scholars calculations**
Last Day of School / Senior Exams / Exemption
The last day for seniors to attend their regularly scheduled classes is Wednesday, May 17th.
Seniors taking end-of-course exams will report to the Learning Loft at the start of the school day on Thursday, May 18th.
All online GenNet or STRIDE classes must be completed and submitted by the end of the day on Thursday, May 18th.
Seniors eligible for exam exemptions must meet ALL the following criteria:
2 unexcused absences or fewer per class
2 tardies or fewer per class
Must have a B- (80%) or better in the course
Parents must sign off on the exemption (even if you are 18 years old)
Exemption form must be submitted on time, no late forms will be accepted
Exemption forms will be delivered to first-hour classrooms on May 8th. They must be turned into the office no later than Friday, May 12th. Even though an exemption form is turned in, final attendance will still be tabulated through May 17th. If an absence removes a student's exam exemption, the student will be notified and must take the scheduled exam.
Commencement Rehearsal is a required attendance event. Students are expected to clear their schedules to accommodate this requirement (work, appointments, vacation, etc.).
Rehearsal will take place on Wednesday, May 31st from 9:00 AM - 1:00 PM in the auditorium. We will complete the following activities during rehearsal:
Graduation rehearsal (entry and exit procedures for the O'Rena)
Review arrival times and procedures for June 2nd
Cap and Gown pickup (including cords, stoles, etc.)
Graduation Tickets
Students will receive their CA-60 (report cards, student records, etc.)
Class of 2023 Commencement Information
The Class of 2023 Commencement Ceremony will be held at Oakland University's O'Rena on Friday, June 2nd. The program begins at 7:00 PM and typically lasts about 90 minutes.
There is ample parking at the university, providing a short walk to the venue. Doors will not open until 6:30 PM. Guests MUST have a ticket to get into the event. Tickets will be provided to graduates during cap and gown pickup on May 31st.
Commencement Directions / Information / Photography
Directions to Oakland University:
From Holly High School -
Take East Holly Road to I-75 southbound. Once on I-75 south, travel 19 miles and take exit 79 onto University Drive toward Rochester. Take University drive 1.5 miles and enter the main campus.
Please take the second exit in the roundabout...
Take the 2nd exit in the roundabout to head north on Meadowbrook Road. Take that around the outside of the main campus until you come to Ravine Drive. Take a right onto Ravine Drive. Take Ravine Drive until the road comes to an end. Take a right on Pioneer Drive, then go 0.5 miles to find Parking Lot 26 on your right and Parking Lot 29 on your left.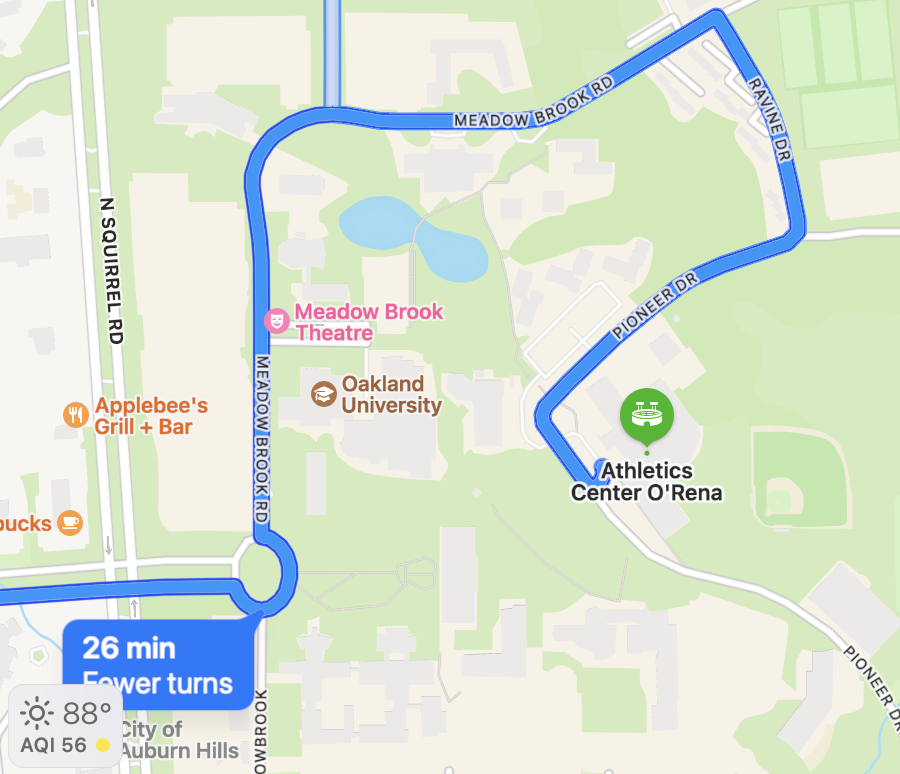 Parking at the O'rena:
Please use the following link for Maps and Directions as provided on the Oakland University website.
https://goldengrizzlies.com/sports/2018/5/21/facilities-orena-mbb-html.aspx
You can also use the following information for parking when you arrive at the university.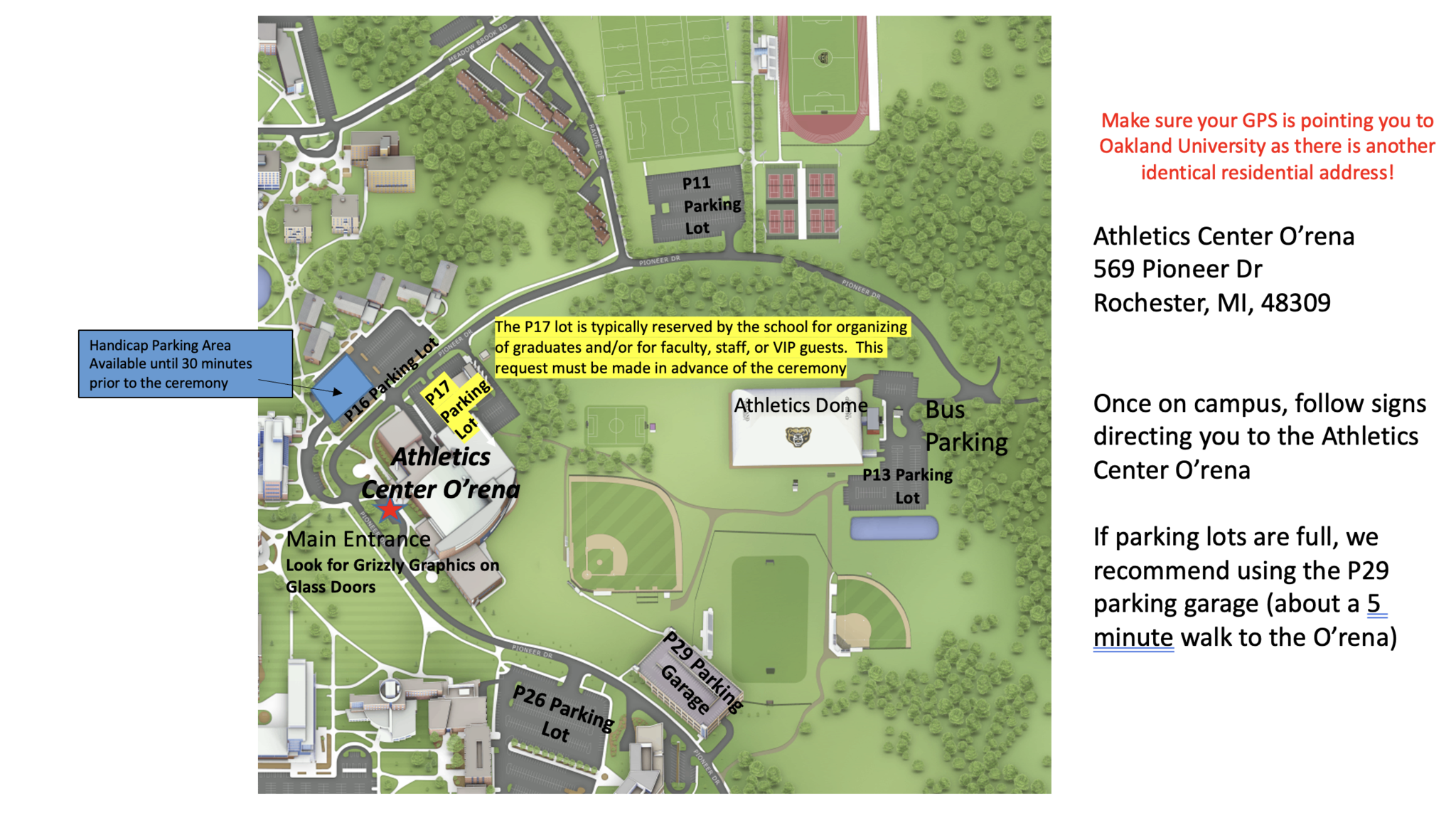 For students and guests, please use parking lots P26 and P29.
Handicapped parking is available in lot P16 (colored in blue).
Who: Graduated Seniors from the Class of 2023
When: 9:30 PM - 4:00 AM
Where: Holly High School Commons