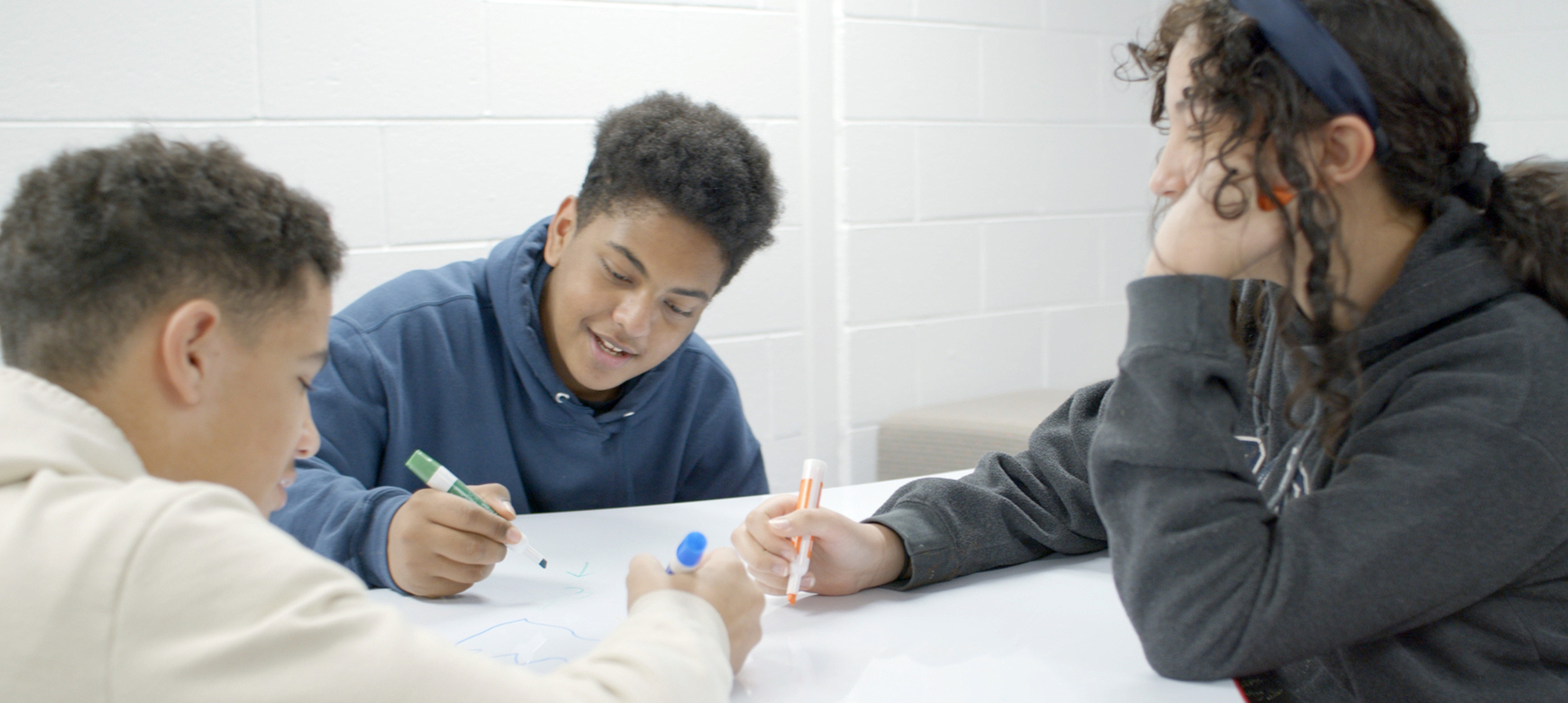 Inspiring learners to shape tomorrow's world!
Calendar

Previous

February

2023

Next

S
M
T
W
T
F
S
1
2
3

Feb 3

1/2 Day Students and Staff

Calendar:

Holly Area Schools

4
5
6
7
8
9
10
11
12
13

Feb 13

7:00 PM to 8:00 PM

Board of Education Meeting

Calendar:

Board of Education

This BOE Meeting will be broadcast via live stream. However, public comment during audience participation will be conducted In-Person.
Live Stream link

Agenda (will be posted when available)

The meeting will take place in the boardroom at KRC (920 Baird Street, Holly)

14
15
16
17
18
19
20

Feb 20

No School - Mid Winter Break

Calendar:

Holly Area Schools

21

Feb 21

No School - Mid Winter Break

Calendar:

Holly Area Schools

Staff Only - District Wide PD

Calendar:

Holly Area Schools

22

Feb 22

7:00 PM to 8:00 PM

HMS Bands "Pre-Festival Concert"

Calendar:

Holly Middle School

23
24
25
26
27
28
Featured News
---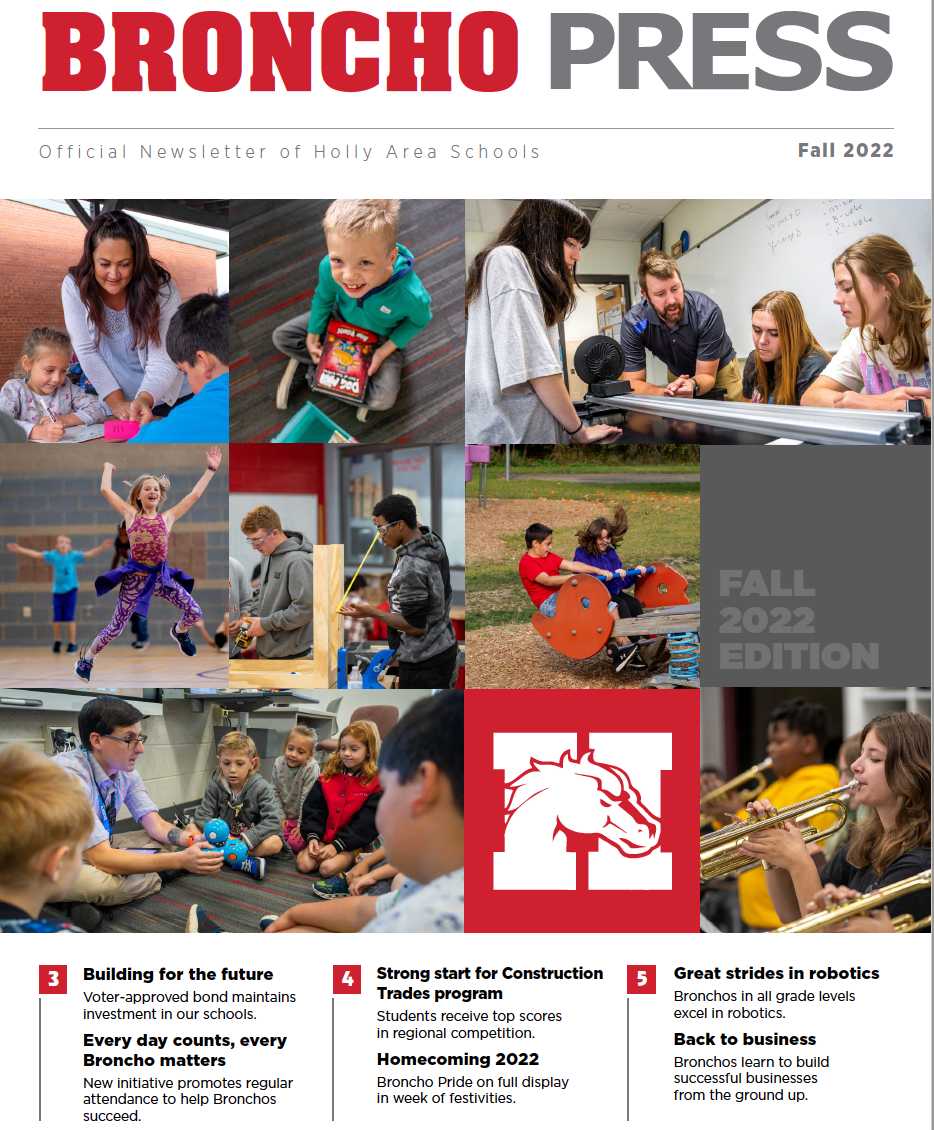 The Fall 2022 Broncho Press highlights the latest Broncho news, including an update on bond investments, our attendance initiative "Every Day Counts-Every Broncho Matters", construction trades students earn top scores in regional competition, Bronchos excelling in robotics at all grade levels, and much more! If you haven't received yours, check your mailbox today!
---
Including Broncho Media Highlights
---
Pre-School Openings in Head Start at Rose Pioneer
We have openings in our Head Start Program at Rose Pioneer Elementary.  
The Head Start Program is for children who are at least 3 years old by September 1st and is Free if you qualify!
The Head Start Program Offers:
High Scope Curriculum
High Quality Teachers
CPR Trained Staff
Prepares Children for Kindergarten
Call the Early Childhood Office at 248.328.3021 today!
Safety & Security New Year Announcement
There is nothing more important than the health, safety, and well-being of our students, staff and families.  This remains our number one priority and is the reason for my communication today before our holiday break. 
Early On Michigan
Project Find / Child FInd - Project Find is devoted to helping individuals, parents, and people who work with families (known as primary referral sources), to connect with the special educational services that may be needed. In Michigan, eligible children, youth, and young adults may receive special educational services from birth through 25 years of age. Project Find Michigan is part of the child find component of the IDEA. For Birth to 3 yrs, contact the Early On Referral Specialist at 248 209-2084. For Ages 3 to 26 yrs call Holly Area Schools Special Services at 248-328-3170.
Welcome to Holly Area Schools
Holly Area Schools is a genuine, caring community with supportive families. The district has great students, a hard-working staff with creative, innovative, and passionate teachers. There is a great positive momentum across Holly Area Schools!
HAS Quick Facts
#1
HHS Bands consistently earn superior ratings at competitions and festivals
$15,000
in training dollars so far from the Project Aware Grant which supports social-emotional learning and mental health services in our community.
$3.9 Million
in scholarship offers were made to the graduating class of 2017
100%
Certified Teachers and Administrative Staff
1st
HMS is Michigan's 1st Leader in Me Lighthouse Middle School. Holly Elementary is also a Leader in Me school!
36%
of HHS students participate in Advanced Placement (AP) courses
50%
of 7th - 12th grade students participated in athletic programs this year
60+
professionals and community leaders present annually at our HMS Career Day
82%
of 8th graders are taking at least 1 course for high school credit (on average)
9 out of 10
people believe that Holly Area Schools provides a safe and supportive learning environment (2017 AdvancED Survey Data)
AdvancED Accreditation
HAS earned district wide accreditation in the 2016-2017 school year
LIFT
Award winning program for students supporting peers on the Autism Spectrum
Site Map / Accessibility Assistance Request / Intellectual Property Statement
Can't find what you are looking for? View the site map.
Holly Area Schools is committed to ensuring digital accessibility for people with disabilities. We continue to make changes to improve the user experience for everyone and apply the relevant accessibility standards.
The Web Content Accessibility Guidelines (WCAG) defines requirements for designers and developers to improve accessibility for people with disabilities. It defines three levels of conformance: Level A, Level AA, and Level AAA.
Wherever possible, will aim to adhere to level AA of the WCAG 2.0 guidelines, which states that sites should be:
Perceivable - Information and user interface components must be presentable to users in ways they can perceive.
Operable - User interface components and navigation must be operable.
Understandable - Information and the operation of user interface must be understandable.
Robust - Content must be robust enough that it can be interpreted reliably by a wide variety of user agents, including assistive technologies.
As part of our efforts to achieve WCAG 2.0 AA compliance, we use an ongoing monitoring service.
If you experience difficulty with the accessibility of any web pages or documents on the Holly Area Schools district and/or school webpages, please complete an Accessibility Assistance Request.
For additional information, please fill out the Contact Us form or email hasinfo@hask12.org
Link to the Holly Area Schools Intellectual Property Statement.