Suicide Prevention and Mental Health Resources
Struggling or concerned about a friend? Don't suffer in silence. Reach out to a trusted adult for help or check out the following resources for support.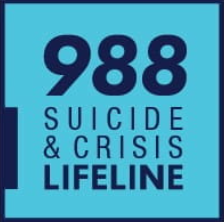 The Lifeline and 988
988 is now the three-digit dialing code that routes callers to the 988 Suicide & Crisis Lifeline (or 988 Lifeline). 988 Suicide & Crisis Lifeline (formerly known as the National Suicide Prevention Lifeline), connects individuals with crisis counselors for emotional support and other services via text, web chat or phone.
When people call, text, or chat with the 988 Lifeline, they are connected to trained counselors that are part of the existing 988 Lifeline network, made up of over 200 local crisis centers. These counselors are trained to provide free and confidential emotional support and crisis counseling to people in suicidal crisis or emotional distress, and connect them to resources. These services are available 24 hours a day, seven days a week, across the United States.
988 Lifeline Chat and Text is a service of the 988 Suicide & Crisis Lifeline connecting individuals with crisis counselors for emotional support and other services via web chat or texting 988.
The 988 Lifeline phone number (1-800-273-8255) is also available to people in emotional distress or suicidal crisis.
Youth Suicide Awareness and Prevention Information

CDC Information on Youth Suicide Awareness and Prevention
The Jason Foundation, Inc
Dedicated to the prevention of the "Silent Epidemic" of youth suicide through educational and awareness programs that equip young people, educators/youth workers and parents with the tools and resources to help identify and assist at-risk youth.


The Jason Foundation
Dealing with Teen Depression
Signs, Symptoms and tools for helping yourself or a friend


HelpGuide.org
Substance Abuse and Mental Health Services
SAMHSA's free mobile apps offer easy access to treatment and prevention tools for opioid use disorder, suicide, bullying, disaster response, and underage drinking. Learn how you can help spread the word about SAMHSA's mobile apps.


SAMHSA - Substance Abuse and Mental Health Services Administration
Teen's Guide to Mental Health

Wake Forest University - Teen's Guide to Mental Health
National Alliance on Mental Health

NAMI Resources
National Association of School Psychologist

Resources and Podcasts
Suicide Prevention Resources
If you or someone you know is experiencing suicidal ideation or thoughts of harming yourself, help is out there. Below are resources for suicide prevention that you can access.


Programs and Resources
Talk Away the Dark

Start a Conversation


Reaching Out for Help


If Someone Tells You They're Thinking About Suicide


How to Talk to a Suicide Loss Survivor
PBS Learning Media

Mental Health Resources for Students
The Ups and Downs of Social Media: Evaluating Mental Health Effects on Teens
A youth-led podcast exploring issues pertaining to mental health among teenagers. This episode focuses on the positives and negatives of social media on youths' mental health.


On our Minds Podcast
---
School-Based Suicide Prevention Programs and Materials
Columbia University TeenScreen Program
TeenScreen helps schools and communities implement screening programs to identify at-risk teens and pre-teens. It uses simple screening tools that can detect depression, the risk of suicide, and other mental disorders in teens to help schools identify and arrange treatment for youth who are suffering from depression and other undiagnosed mental illness and those who are at risk of suicide.


Teenscreen.org
Suicide Prevention Resource Center
Online Library with resources for staff and students.


SPRC Online Library
Jason Foundation, Inc.
The Jason Foundation, Inc., educates young people, parents, teachers, and others who work with young people about youth suicide. The foundation offers programs, seminars, and support materials on suicide awareness and prevention.


The Jason Foundation
Yellow Ribbon International Suicide Prevention Program
This organization provides training and resources for school- and community-based suicide prevention programs (including gate keeping). Chapters in a number of states can provide suicide prevention speakers, materials, and training to schools and other organizations.


Yellow Ribbon Suicide Prevention Program
Youth Suicide Prevention School-Based Guide
This online resource was developed by the Florida Mental Health Institute at the University of South Florida. It provides a framework for schools to assess their existing or proposed suicide prevention efforts (through a series of checklists) and provides resources and information that school administrators can use to enhance or add to their existing program. Information is offered in a series of issue briefs corresponding to a specific checklist. Each brief offers a rationale for the importance of the specific topic together with a brief overview of the key points. The briefs also offer specific strategies that have proven to work in reducing the incidence of suicide, with references that schools can use to explore these issues in greater detail.


School Based Guide
PBS Learning Media

Mental Health Resources for Teachers
---
Community Based Mental Health Resources
---
South East Michigan Counseling Resources
Medicaid Referral Number 800.231.1127
For a list of providers, call the # on the back of your insurance card.
* Accepts Medicaid and sliding scale fees
Additional Resources

What is Depression?


10 Signs of Anxiety


Daily Wellness Journal


What Depression Actually Feels Like


Connect to Cope


Why I'm Grateful


Anxiety Explained


Importance of Staying Active


We All Have Mental Health Challenges


Stress Management


Teen Depression Awareness


Challenging Negtive Thinking Patterns - Cognitive Coping

Oakland Schools - Support Well-Being at Home