Food Service Department
Holly Area Schools, in partnership with Chartwells, recognizes that breakfast and lunch time is as much about learning as the classroom. Through creative marketing and nutritional education, we strive to teach children about the best choices for life-long health and wellness. Our school facilities utilize fully operating kitchens to prepare foods from scratch and batch cook so each meal is as fresh as possible. Every school also offers a "food bar" with daily selections of fresh romaine lettuce and assorted fresh fruits, vegetables, and composed salads.
Food Service Update for the 23-24 School Year
With the new year quickly approaching we have an important update regarding our food service program. HAS is now participating in a new program provided by the USDA Food and Nutrition Services which will provide all Pre-K through 12th grade students with free breakfast and lunch each school day. This is a great opportunity for our students. With this new program, all families are required to complete the short form which is attached to this communication. The form can be completed online, printed, signed and returned to your school office. Additionally, for your convenience, each school will also have forms available during next weeks Schedule Pick Up and Meet and Greet events.
Additional information can be found in the Education Benefits Letter and Form.
Should you have any questions, please contact your school office or our Food Service Department.
Parent's or Guardians from all buildings that would like to put money on their students' accounts may bring in or send checks to the Food Services Department at their school buildings. Any questions please call the office 248.3036
Parents and Guardians are also able to apply money to their student's accounts through the online payment system e~Funds for Schools which can be accessed directly through your Skyward Family Access account or the e-Funds link on the top of our website.
Please refer to our Online Payments web page for more information and instructions.
If you ever have any questions in regards to your child's account please feel free to contact the Food Service Department at any time.
For our menus, we utilize Nutrislice which is a program to allow parents and students to view menus and nutritional information via the web and cell phone.

Visit the Nutrislice website and choose the appropriate school building

Summer Meet Up and Eat Up Menus
Nutritional Resources / Food Allergy Forms

Chartwells Education - Information about the Chartwells program, philosophy, and nutrition

My Plate - Helpful healthy eating and living tips for you and your family

Food Sensitivities and Intolerances

Medical Care Plan - Severe Allergy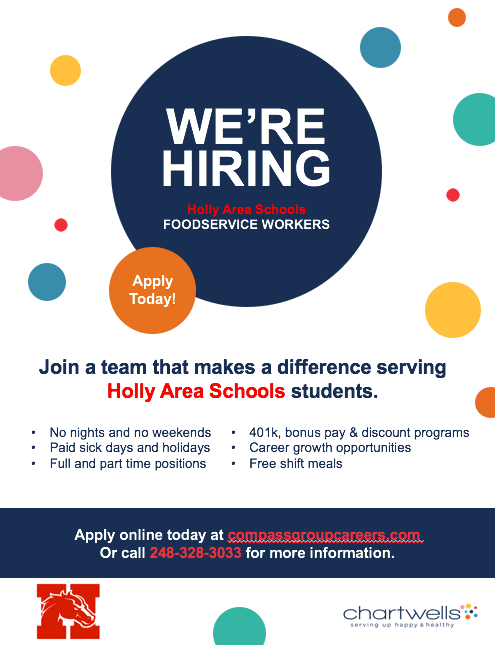 Thomas Baranoucky
Mary Robb
Food Service
Administrative Assistant