Rose Pioneer News
News Articles

View Archives
HAS Administration Announcement
Dear Holly Area Schools Families,
At Holly Area Schools, we are committed to providing a world-class learning environment that helps our Bronchos learn, grow and thrive. We would like to share the following news with you regarding changes to our administration team to officially take place on Monday, December 4th.
Update on KRC Site Work
You may have noticed exciting changes happening at the Karl Richter Campus as construction/site work is underway in preparation for the future home of the new Holly Middle School.
One of the biggest changes that visitors will soon notice is the demo of over half of the north parking lot in front of the district offices. This is one of the phases of the ongoing site work.
Parents and visitors to the district offices will continue to use the parking spots in front of the administration offices. If there is a need for additional overflow parking, spaces will also be available to the west of the building at the new tennis courts.
Thank you for your continued support.
Cancellation of Bus Routes
Dear Families of Holly Area Schools,
This is an update for parents/guardians of students riding school buses to and from school. The nationwide shortage of qualified school bus drivers as continued into the 2023 – 2024 school year. Many districts throughout Michigan have also been impacted by this unfortunate reality.
Jacobson-Quinn Toy Project
Applications are now available from Holly Area Youth Assistance for the 2023 Jacobsen-Quinn Toy Project. This Project has been an annual event in our community since 1982. The program is funded by individuals, businesses, churches, and civic organizations who donate toys and/or money to this project.
Please visit the HAYA webpage for more details and to download the application.
Pioneer Parent meeting dates
Learning Ladder Enrollment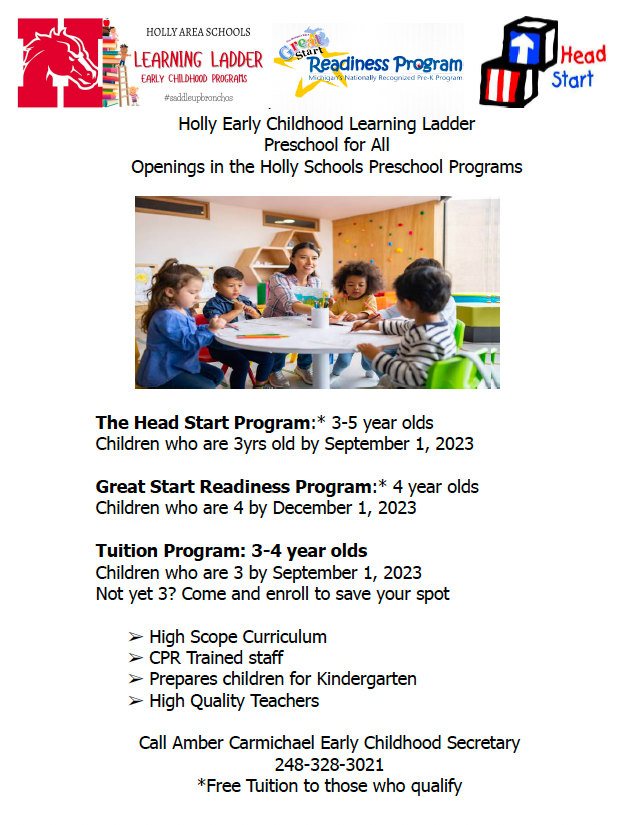 Learning Ladder Openings 23-24 Flyer or visit our Learning Ladder page for more information!
More than 200 Bronchos learn about skilled trades careers from top-tier industry professionals
Professional Trades and Apprenticeship Open House provides inside look at lucrative skilled trades opportunities
Holly High School robotics team kicks into high gear on world stage
Team Hollywood Robotics, Holly High School's robotics team, competed alongside 640 student robotics teams from around the globe — and held their own — at last week's FIRST Robotics World Championship in Houston. View details in this TriCounty Times article.
Safety and Security Announcement
Dear Holly Area Schools students, staff and families,
The health, safety and well-being of our students, staff and families is our number one priority.
Today, a number of Michigan school districts were affected by false reports of an active shooter on their campuses. From what we understand, schools received calls with these threats, which turn out to be unsubstantiated. It appears to be part of a hoax known as "swatting" that is targeting schools across the country.
Bus Stop Safety Update
Dear Holly Area Schools Families,
The safety and well-being of our students, staff and families is our top priority.
It has come to our attention this morning, Thursday, February 2nd, shortly after 8 am, a Davisburg Elementary student reported a suspicious individual on Detroiter Ave. in the Springrove mobile park in Davisburg.
Safety & Security New Year Announcement
There is nothing more important than the health, safety, and well-being of our students, staff and families. This remains our number one priority and is the reason for my communication today before our holiday break.
Important Message from Sheriff Mike Bouchard regarding Student Threats
Please review the included video for important information regarding student threats.
Dangers of Gummies and Vaping
At Holly Area Schools, the health, safety and well-being of all Bronchos is our number one priority.
Holly High School Administration Announcement
We would like to share the following news with you regarding changes to our Holly High School administration team.