Transportation Department
---
October 5, 2022
Dear Families of Holly Area Schools,
This is an update for parents/guardians of students riding school buses to and from school.
As you may have heard in media reports, there continues to be a nationwide shortage of bus drivers. In the past year, we have witnessed the impact of this shortage resulting in cancelled bus routes in several Michigan school districts.
While our district transportation department leaders and bus drivers have continued to work tirelessly to keep all of our routes running, the shortage of drivers has now impacted Holly Area Schools. One of the biggest challenges we face is finding qualified substitute drivers to fill driver absences. Knowing that driver leaves of absence will soon impact routes, we are communicating in advance so our families have more time to plan for alternative transportation to and from school for their children.
Beginning the week of October 10th through the week of November 28th, we will temporarily cancel two bus routes. Each week, two different routes will be cancelled as part of a weekly rotation to reduce the inconvenience to one week for our families.
We would avoid cancelling any routes if at all possible. Our district transports over 1,500 students daily. Our school buses travel nearly 2,000 miles each day, making us the third-largest district in size in Southeast Michigan. Over the past year, we have successfully utilized licensed staff and department leaders to cover routes, but this is not sustainable in the coming weeks.
With this announcement, the district has bolstered its campaign to hire new bus drivers offering signing bonuses up to $5,000 and providing all drivers with attendance incentives. Please see our flyer on social media, the website, and soon in local newspapers. Please share this advertisement with friends and family who may be interested in a career driving a school bus.
Below is the schedule of the cancelled bus routes through the week of November 28th. A follow-up Skylert email will be sent the week prior to each cancelled route as a reminder.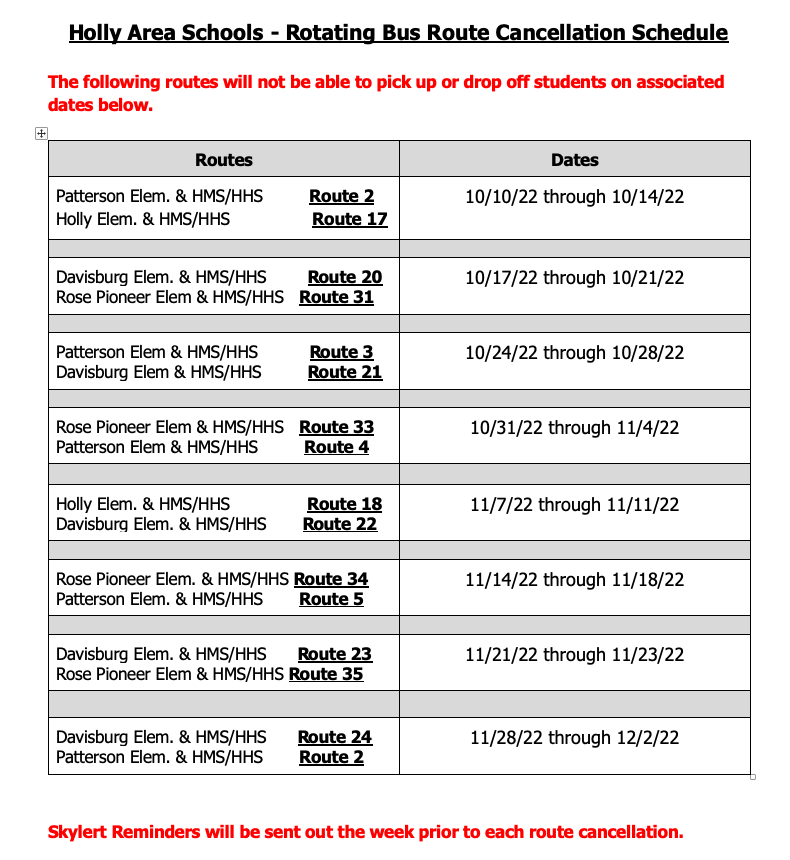 We appreciate everyone's patience and understanding as we do our best to fully staff our transportation department and support your child's route to school.
Sincerely,
Scott M. Roper, Superintendent

HAS Announcement of Cancelled Bus Routes - Oct 2022


Rotating Bus Route Cancellation Schedule
---
The mission of the Holly Area Schools Transportation Department is to provide safe, cost efficient and timely transportation service to our students. With over 124 square miles and much of it rural roads, bussing children is a must for our district.
On a daily basis our fleet travels over 2,725 miles and crosses railroad tracks approximately 680 times. Our 31 bus drivers transport nearly 2,850 students daily.
In addition, our drivers are transporting our students on various field trips and to athletic events. On an average, our vehicles use around 80,000 gallons of fuel per year. The majority of the buses in our fleet have cameras an GPS to increase the safety of our students and staff.
Postcards with bus route information are mailed to each eligible elementary student during the month of August. All middle school and high school students will receive their postcards during schedule pick up at their designated buildings some time in late August. The card will indicate the route number and approximate pick up and drop off times
At the beginning of the year; students should be at their designated bus stop a minimum of 10 minutes prior to the time posted on their postcards as those are only computerized estimates. Once you see that the scheduled pick up time has stabilized, please have the student at the stop a minimum of 5 minutes prior to their regular pick up time.

Students should wait at the bus stop in an orderly fashion. The school district will not be responsible for what happens at a stop unless witnessed by the bus driver. We strongly suggest that a parent accompany the child to the stop.

Each child is allowed one pick up address and one drop off address. The addresses may differ however, they must remain consistent.

If you are planning a vacation or know that your child will need alternate accommodations, you will need to arrange for someone to get the child to their own stop or transport them themselves. Special requests will be denied.

Parents of Kindergarten students must meet the bus upon drop off to ensure their safety. All other aged students will be dropped at their stop if parents are present or not. If you would like for an older sibling or neighborhood child to walk your child home in the afternoon, be sure and send the transportation department a signed letter detailing your request.

If your child misses the bus, please don't chase the bus. Simply just take them to school. The number one cause, of student bus fatalities, involving a school bus is due to students trying to board the bus at an unassigned stop. The safety of our students is our top priority.
Trains, traffic, inclement weather, poor road conditions and mechanical failures are the most common reasons that cause a bus to be late. We ask that you be patient. If your bus is running more than 10 minutes late, please call us at 248.328.3090.
Each school year we receive a large number of requests to either move or add a bus stop. such requests must be made by completing a Bus Stop Change Form, which will be made available in the transportation office, after the first 2 weeks of school. Requests will not be approved over the phone. No requests will be reviewed until mid September due to the start of the school year. We receive many of these each year and would greatly appreciate your patience.
Occasionally the district has to return students home early due to a power outage, etc. You and your child need to prepare for such emergencies. Have a plan in place as to where the child should go in case no parent is at home. Calls will go home through our automated calling system to notify you of such closings. Make arrangements now with friends/neighbors.
Student Discipline Procedures
We recognize the importance of a partnership between the school district, parents and students in order to provide a safe environment for transportation on our buses. It is also important to note that riding a school bus is a privilege and not a right. The bus ride is a continuation of their school day. For these reasons, student are expected to:
Treat the bus driver with courtesy and respect, following all requests promptly and politely.
Board and exit the bus in accordance with the transportation policy.
No disruptive behavior.
No smoking or possession of tobacco.
No matches or lighters.
No littering.
No eating or drinking on the bus.
No profanity or harassment.
Sit correctly in your seat.
Stay seated until the bus is at a complete stop.
Do not put arms, heads, or anything else out the bus window.
Follow the student code of conduct as described in the Student Handbook.
No vandalism
This list of expectations is not all-inclusive and other behaviors may result in immediate suspension of bus and school privileges.
When a situation develops that endangers the safety or well-being of other students on the bus, it is imperative that the school take the necessary steps to correct it in order to ensure the safety of all children. Even a minor incident that results in the driver taking their eyes off the road makes for a serious hazard. Safety is our main concern.
If a student chooses to deviate from appropriate behavior (except for serious misconduct), the steps for consequences will be as follows:
1st Violation - Driver will contact a parent and a written warning will be sent home.
2nd Violation - Student will be suspended from bus privileges for 3 school days.
3rd Violation - Student will be suspended from bus privileges for 10 school days.
4th Violation - Student will be suspended from bus privileges for 90 school days.
5th Violation - Student will be suspended from bus privileges for the remainder of the school year.
Special Education students receiving special education transportation will be expected to follow all the same rules, as the consequences for misbehavior will remain the same as all others.
Parents of students in grades K-5 will be receiving a disciplinary notice and will be notified by the office.
Students in grades 6-12 will be given written documentation of their disciplinary action and are responsible to see that the parent receives it. No call will be made to the parent.
Notice of Non-Discrimination
It is the policy of the Holly Area School District not to discriminate on the basis of race, religion, color, national origin, sex, disability, height, weight, or marital status in its programs, services or activities. The following have been designated to handle any suspected discriminatory practice:
Inquiries related to discrimination on the basis of disability should be directed to our Section 504 Coordinator, 920 Baird Street, Holly MI 48442
Direct all other inquiries related to discrimination to our Superintendent, 920 Baird Street, Holly MI 48442