Holly Area Youth Assistance
Strengthening Youth and Families through Community Involvement
What is HAYA
Holly Area Youth Assistance is a community-based prevention organization developed by volunteers who live and/or work in the greater Holly Area School District community. HAYA is cosponsored by Holly Area Schools, the Townships of Groveland, Holly, Rose and Springfield as well as Oakland County Circuit Court - Family Division. Additional funding is obtained through grant and local fund-raising efforts.
Casework Services
Holly Area Youth Assistance provides low cost, confidential, short-term, family-centered counseling and referral service for local young people (under the age of 17) and their families. The focus is on the whole family and not just the incident that brings the family to Youth Assistance. Like other HAYA services, casework services aspire to reduce the incidence of delinquency, abuse and neglect through volunteer involvement.
Programs, Projects & Other Services
Bob Warner Scholarships
Fall School Supplies Project
Family Education and Parenting Programs
Jacobson/Quinn Toy Project
Mentors Plus
Musical Instrument Loan Program
Skill Building Activities Scholarships
Summer Camp Scholarships
Youth Involvement
Board of Directors Officers
Tena Alvarado, President
Cherie Monette, Vice-President
Nancy Hanks, Treasurer
Teresa Blaska, Secretary
Additional Information and Resources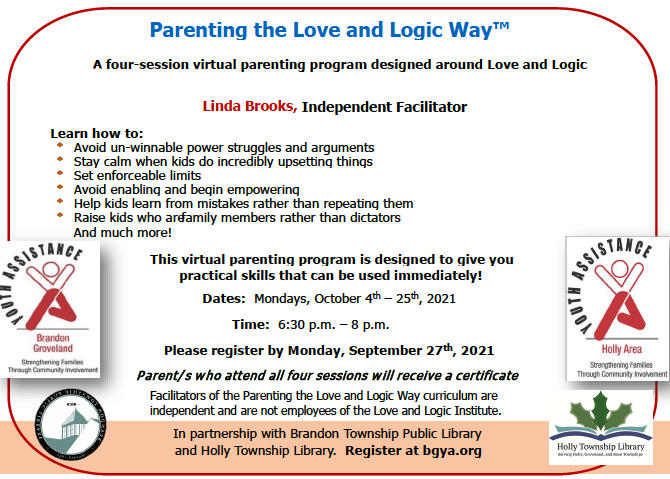 This virtual parenting program is designed to give you practical skills that can be used immediately! Please see our Parenting the Love and Logic Way flyer.
Holly Area Youth Assistance
Ragen Rockwell

Case Worker
Wendy Burton

Secretary