Parking Lot Routines
Student Drop Off, Pick Up, and Bus Parking
These guidelines and procedures are designed with student safety as our first priority.
Student Drop Off (West Side of Building)
The external door at the end of A wing will be open daily at 8:30. This is the earliest students should be dropped off at Davisburg as there is no available supervision prior to this time. Students arriving prior to 8:30 will need to report to latchkey.
Students may only exit the vehicle on the passenger side. For the safety of all, there should be no one standing in the drop off lane. Students exit vehicles directly onto the sidewalk area marked by the yellow poles.
Student Pick Up (West Side of Building)
Students will enter the loading area from various points from the building, but may only enter your vehicle when it is parked in front of a yellow post.
Students may only enter vehicles from the sidewalk. (Passenger side only) Please make any necessary adjustments with infant seats or boosters so that only passenger doors are opened.
Please be proactive by practicing with belts, doors, etc. so that students are able to enter and exit vehicles with independence.
Only the lane closest to the building will be used for students to enter their vehicles. This allows a 'thru traffic' lane for cars already loaded to ease around other waiting vehicles.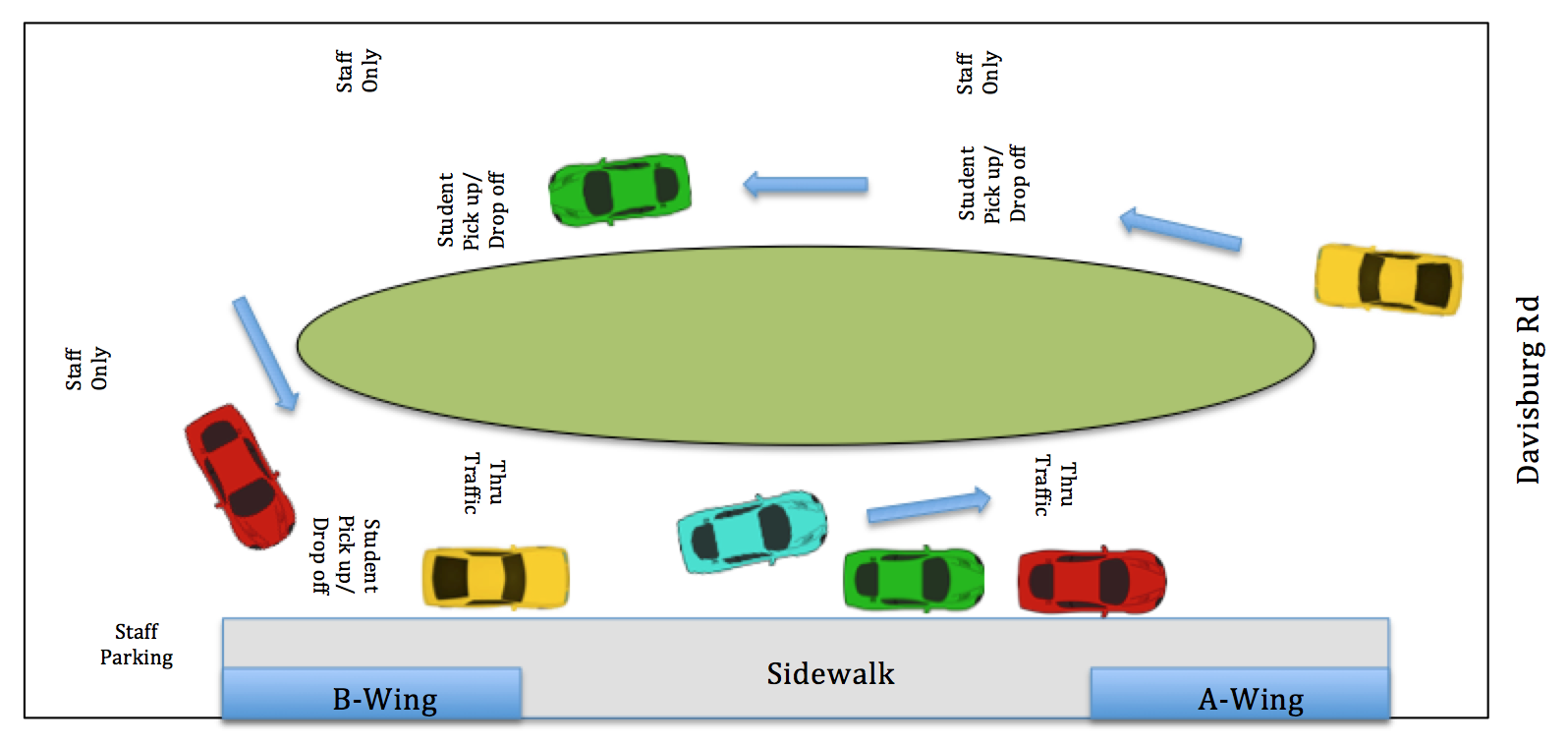 Bus Lanes (East Side of Building – main office entry)
Buses will enter in the front lot and will also load students from sidewalk side only.
Please remember that bus traffic always has the right of way. Please refrain from parking in the bus circle at anytime.
As always the visitor lot is available to you should you need to sign your child out of school early. Please park in a parking spot, enter the office and sign your student out on the clipboard.