Holly Career Center
Welcome to the Holly Career Center!
The Career Counseling Center is located within the Administrative Offices at HHS. The Career Center offers students the opportunity to research career and college opportunities, update their Educational Development Plan (EDP), attend field trips, find volunteer opportunities, participate in job shadowing experiences, and gain valuable experience to pursue their career goals.
Xello! is used as the platform for career exploration and post-secondary planning within our schools for grade levels 6-12. Students are able to do assessments that match their interests and skills to careers, take a learning styles profile, research careers and schools, and more. We encourage all students and parents to become familiar with Xello and take advantage of this great resource! Please click the Xello poster below to be directed to that site. You must use you Google student login to access the site.
Michigan's Job Outlook through 2028 (Hot 50)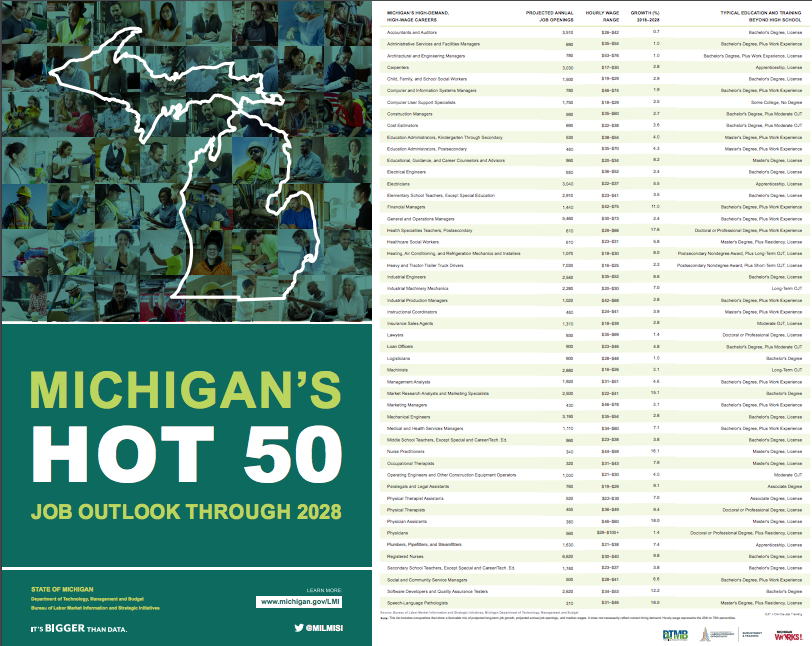 Oakland Schools Technical Campuses (OTSC)
Oakland Schools Technical Campuses (OTSC)
Oakland Schools Technical Campuses : The Oakland Schools Technical Campus (OSTC) is a career-focused, academic environment for high school students throughout Oakland County. OSTC provides juniors and seniors with the opportunity to spend half of their traditional high school day (3 hours) at the Northwest, Clarkston campus. Transportation is provided. Students are able to pursue their technical and career interests by focusing their studies in a variety of areas.
Programs at OSTC include:
Agriscience and Environmental Technologies
Automotive Technologies
Collision Repair and Refinishing
Construction Technology
Cosmetology* (only available at the Northeast campus)
Culinary Arts and Hospitality
Engineering and Emerging Technologies - Machining
Engineering and Emerging Technologies - Mechatronics
Engineering and Emerging Technologies - Welding* (not available at the Northwest campus)
Health Sciences
iTeam - Computer Programming
iTeam - Computer Networking
iTeam - Entrepreneurship and Advanced Marketing
iTeam - Web Development
Medium and Heavy Truck Equipment (only available at the Southwest campus)
Visual Imaging
*If you are interested in attending a program that is not available at the Northwest campus, please speak with your counselor about the availability of these programs.
OSTC Program Guide : View this booklet to get general information on OSTC and what programs are offered. This document contains clickable links for more detailed information.
Applying to OSTC : Students may apply for admission to OSTC prior to their junior and/or senior year. All sophomore students are invited to an OSTC presentation and field trip to learn about current programs. When thinking about applying please consider the following:
Make sure you speak with your counselor if you are interested in applying to OSTC and pay attention for announcements regarding application due dates.
Students must complete an online request for consideration and an enrollment application. Students must also have an updated educational development plan.
Space is limited in all programs. Depending on the number of applications for a program, you may be offered your 2nd choice program or placed on a waitlist.
Interested students must apply online at OSTConline.com - click on the "Enrollment is Easy" tab.
If you have any questions regarding OSTC please contact your Counselor or the Career Coordinator.
ASVAB Testing
ASVAB Testing – Monday, April 22, 2019 at 8:00am at HHS in the Kiva
Annually representatives will be at Holly High School to administer the ASVAB. The Armed Services Vocational Aptitude Battery (ASVAB) is a multiple-aptitude battery that measures developed abilities and helps predict future academic and occupational success in the military. Although it is not just a military test, students are able to learn about their skills and interest, then discover careers that match.
Military Colleges
Military Branches
Military Recruiters are on site on a rotating schedule during high school lunches. For this schedule or to get contact information for our area recruiter, please contact the Career Coordinator.
When you join the United States Air Force with your high school diploma or GED, you're automatically enrolled in the Community College of the Air Force.
Informational Websites

College Week Live - Live Broadcasts from colleges across the United States. Virtual Tours and so much more!

Collegeboard - Get help finding a school that best fits you. Site includes self-assessments, college match searches, career exploration tools and more.

FAFSA - Free Application for Federal Student Aid - the largest provider of federal student financial aid.

Fastweb Scholarship Search - A free scholarship search engine that includes financial aid and career planning along with college searches.

Learn How to Become - A website to help any job-seeker understand what it takes to find the perfect career, from the student trying to land that first job to the seasoned professional climbing the company ladder.

O-Net - Detailed descriptions of hundred of jobs with descriptions of the workforce.

Occupation Outlook Handbook - A breakdown of a job's outlook or potential for growth, education, salary, and more.

Practice Tests - Any practice test you can think of is available on this site!

SAT Practice Tests - Free and official SAT practice testing.

SAT Study Guide - SAT Practice for students going out of state.

Scholarship Application - Check out an app for your phone that will help you search for available scholarships.
Forms and Documents

HHS Senior Profile Sample - Profile Sheet example that can be used to develop your own senior profile and help with senior interviews and resumes.

Letter of Recommendation Form - Student can download this document and obtain letters of recommendation utilizing this form.