Patterson Elementary News
News Articles - Archives

Back to News
School of Choice Window Closing Soon
The School of Choice window for the first trimester will close on Friday, August 23rd. Applications received after this point will not be accepted. Our next School of Choice window will be for students beginning in trimester two.
Back to School Resources

2019-20 Patterson Welcome Back Letter

Parent/Student Handbook

School Supply Lists
On the first day of school, grades 1st through 5th will report for class and Kindergarten and Young Fives students will have classroom visits that day.
Our Annual Meet and Greet Event will be held on August 28th from 5:00 to 6:30 pm at each of the elementary buildings.

Teacher assignments will be available for viewing in Skyward after August 26th if you have completed your Skyward Online Verification process. If you need assistance, please contact your student's main office.
Back to School Health and Enrollment Fair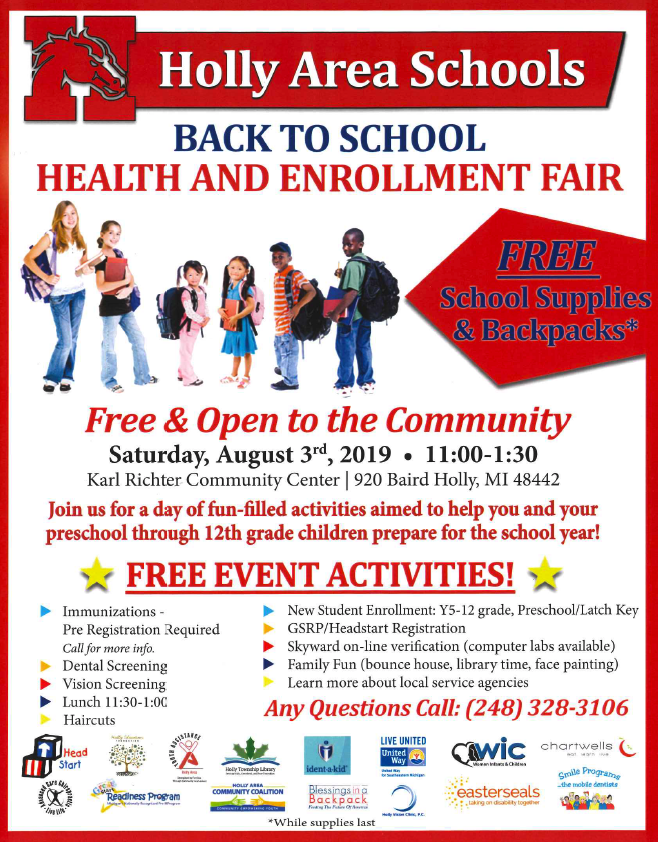 Join us for our 4th Annual Health and Enrollment Fair this Saturday, August 3rd! The event is free and open to the community! See you there!
Printable Flyer
Young Five/Kindergarten Jump Start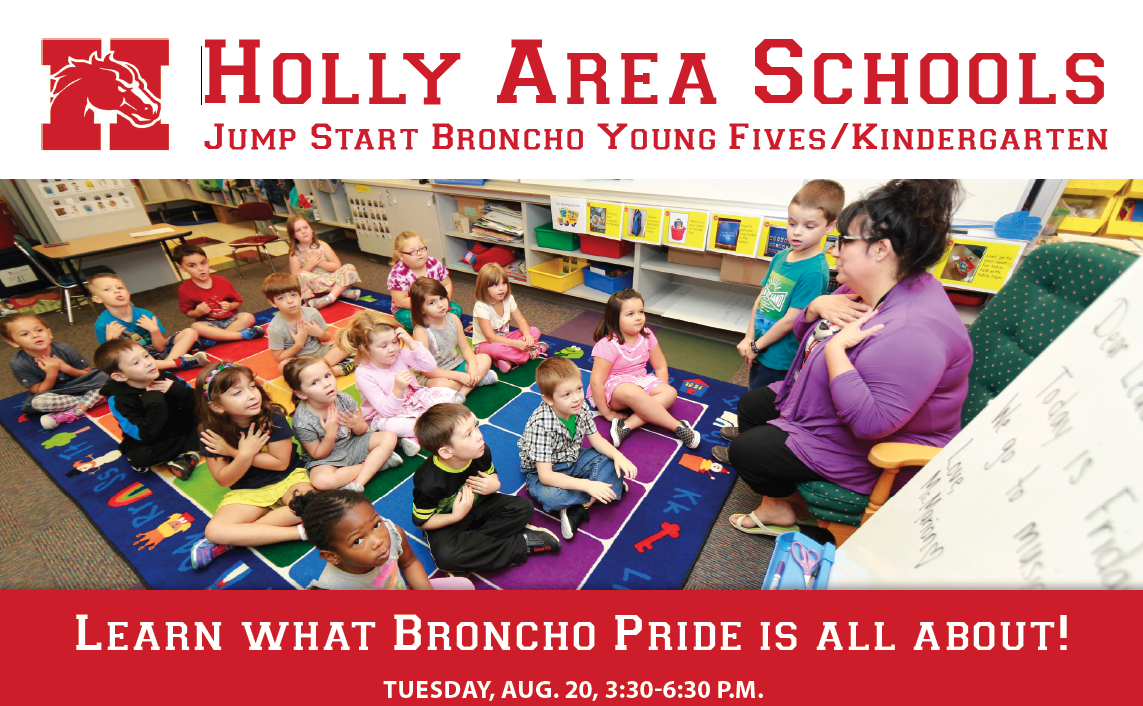 Join us Tuesday, August 20th for Jump Start, an opportunity for Broncho Young Fives and Kindergarten teachers to get to know you and your child. During the event, teachers will conduct a brief academic assessment to best plan for your child's early education.
Meet Up and Eat Up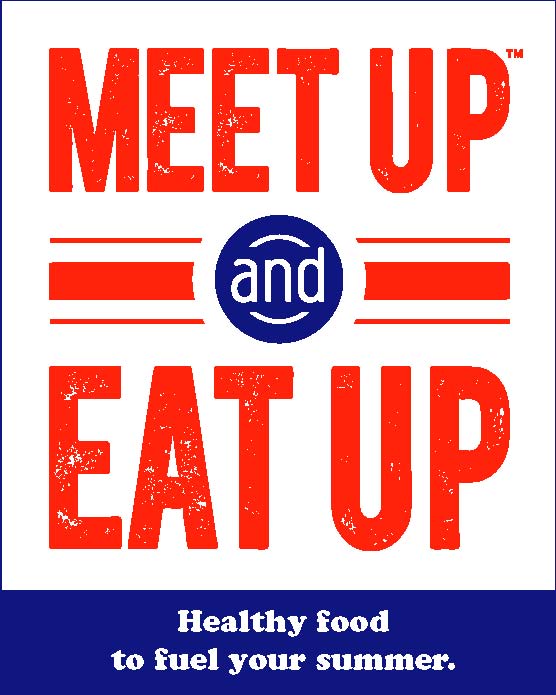 Summer Food Service Program. Free meals will be made available to children 18 years of age and under or persons up to age 26 who are enrolled in an educational program for the mentally or physically disabled that is recognized by a State or local public educational agency. Visit our Meet Up and Eat Up site for dates and times of service or download the following flyer: Meet Up and Eat Up.
Last Day of School - June 14, 2019
Holly Area Schools has received official word from the Michigan Department of Education that we qualify to use the additional forgiveness days from House Bill 4206 signed by Gov. Whitmer. With this recent news, our official last day of school will be a half-day on Friday, June 14th. This was the original last day of school for this calendar year.
Revised District Calendar
Revised District Calendar
Art Show and Empty Bowls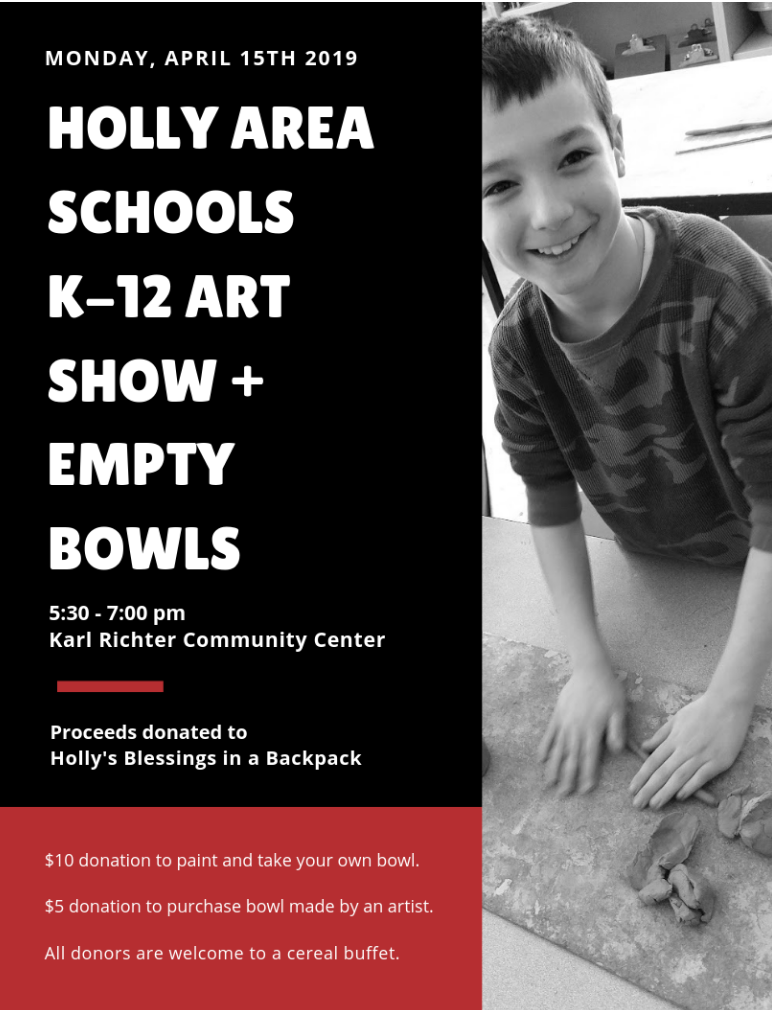 Holly Area Schools K-12 Art Show and Empty Bowls Event will be Monday, April 15th from 5:30-7:00 pm at the Karl Richter Community Center. Explore the amazing artwork from our talented HAS students! You can also purchase a painted bowl for $5.00 or paint an unfinished bowl in your choice of colors for $10.00. The bowls have been sculpted by our student and teacher artists. All donors can enjoy the cereal buffet as well. Proceeds are donated to Holly's Blessings in a Backpack!
(Downloadable Flyer)
Y5/Kdg Enrollment and 6th Grade Orientation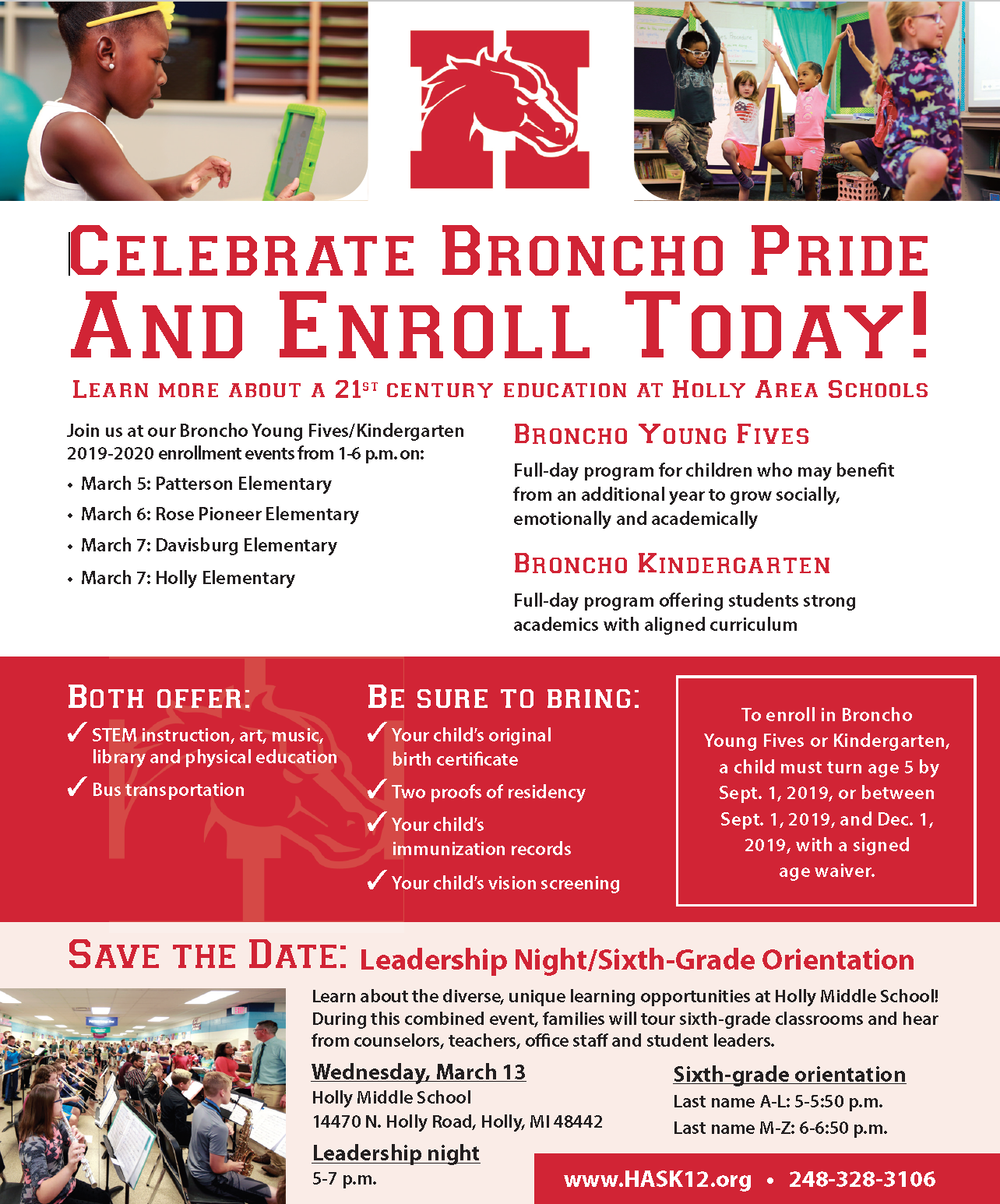 Celebrate Broncho Pride! Young Five/Kindergarten Enrollment Dates and Information on 6th Grade Orientation.
Young Five and Kindergarten Enrollment
It's that time again! We are enrolling now for the 2019-2020 School Year. Enrollment packets are available in all elementary offices, in the administration office and on our Enrollment page.
School Closing
Holly Area Schools is closed today, February 12, 2019, due to the icy road conditions on many of our main roads and the radar now showing continued snow with a mix of sleet and freezing rain during the morning commute and into the day. All events and activities are also cancelled for today. Be safe!
Here is an update on our athletic reschedules from today:
--V/JV/F Boys Basketball at Lake Fenton rescheduled for tomorrow 2/13 at 4:00, 5:30, and 7:00
--V/JV Girls Basketball vs. Grand Blanc @ Holly rescheduled for tomorrow 2/13 at 5:30 and 7:00
--V Swim at Davison rescheduled and relocated to Holly on Thursday (as part of a tri meet with Brandon) at 6:00
--MS Cheer at Davison TBD
School Closing
Holly Area Schools will be closed today, February 7, 2019 due to black ice and intermittent freezing rain beginning this morning. This was a difficult decision and we thank you for your understanding.
Holly Area Schools are allowing all high school contests and non-mandatory varsity only practices today after 2:00 p.m. The Varsity Wrestling team will be traveling to Fenton for the MHSAA Team District (with a bus departure of 3:00). The Freshman and JV Boys Basketball Teams will be traveling to Fenton/AGS Middle School for their games tonight (with a bus departure of 4:15). All MS, Freshman, and JV practices are not permitted via our inclement weather practice.
School Closing
Holly Area Schools is closed Wednesday, February 6th due to the icy road conditions making travel unsafe.
After assessing the current conditions of our roads along with the weather forecast for the remainder of the day, Holly Area Schools has cancelled all practices and contests for today 2/6/19. Contests will be rescheduled as soon as possible and communicated to coaches and posted on social media outlets as soon as they are determined. Thanks for your understanding.
School Closing
School will be cancelled for Friday, February 1, 2019 - We will proceed tonight with HS athletics. All MS activities are cancelled per district policy. The following are the events that will be taking place tonight:
JV Girls basketball @ Swartz Creek 4:15 start (bus departs at 2:45)
Wrestling @ Linden 5:00 (bus departs at 2:45)
V Girls Basketball 6:00 (bus departs at 4:30)
V Boys Basketball 7:30 (bus departs at 4:30)

We are also hosting our annual Broncho Bash Competitive Cheer Competition at HHS starting at 6:00. Over 20 competitive cheer teams will be in our gym and it will be an exciting evening.

All weekend tournaments will proceed as scheduled as well.
School Closing
Holly Area Schools is cancelled today, January 29, 2019, due to hazardous travel conditions. All athletic events and practices are also cancelled. Be safe if you need to travel today.
School Closing
Frigid temperatures and extreme wind chills continue in our area. As a result, Holly Area Schools will be cancelled on Wednesday the 30th and Thursday the 31st. All events and practices will also be cancelled for Wednesday. A determination for Thursday events will be made before noon on the 31st. - Superintendent Roper's No School Video!
School Closing
Due to the winter storm alert, we are cancelling school for Monday, January 28th. All practices and events are also cancelled.
It appears that this will be a challenging week for school with the projected snow amounts, the combination of high winds, and bitter cold temperatures. The projected record low temperatures and wind chills for Wednesday and Thursday could also pose a risk of school cancellation. Anything below minus 20 degrees wind chill will result in a cancellation. Knowing this information, please consider making plans in advance for childcare.
We will be postponing Wednesday evening's Professional Trades and Apprenticeship Open House to a date TBD.
Please be safe. We will be keeping you updated on additional cancellations as soon as decisions are made. Thank you.
Happy Holiday from Superintendent Roper
I would like to wish all Holly Area Schools students, families and staff, and the entire Holly community a safe and joyous holiday season.
Board of Education Vacancy

Vacancy Letter
The Holly Area School District needs to fill a vacant seat on their Board of Education. The term of this vacancy would run for two years from January 1, 2019 through December 31, 2020. To be an eligible candidate, you must reside and be a registered voter within the boundaries of the Holly Area School District. You must also be a U.S. citizen and at least 18 years of age. The Board holds their regular monthly meetings on the second Monday of each month.